Master Data Management software
for enhanced data quality.
GREATER BY DATA.
DATAROCKET Core is a modern Master Data Management (MDM) system that enables the management and control of all enterprise data in one central location. Our MDM allows you to define and enforce data quality standards, clean up duplicates and inconsistencies, and improve overall data quality. DATAROCKET Core thus ensures the consistency, accuracy, and completeness of data while also featuring extended analysis and reporting options. Simple workflows make it easy to create and maintain data.
Centralized data management
Linking of systems and data sources 

DHW, ERP, files, data lakes, API, DBs, and custom solutions 

Synchronous in every direction: read and write in batch, stream, or real-time mode 

Automated data mapping for linking with reference data models 

Custom creation of business data models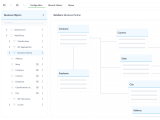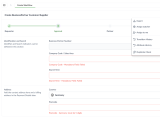 Data management
Find and manage golden records – the MDM tool as a single point of truth

Custom workflows for data creation, data cleansing, and duplicate cleansing

Fine-grained authorization processes and change approval 

Historization & audit
Higher data quality (DQ)
Manage data quality directly in the MDM tool 

Wide range of DQ rules for each domain 

Formulation of own DQ rules

Data submission

Data validation and verification of address information, VAT IDs, sanctions lists, PEP lists, ... 

Automated data cleansing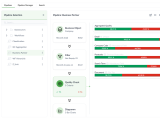 DATAROCKET Core live
Arrange your personal demo and get an insight into the functionality and application of DATAROCKET Core.
DATAROCKET Core
We support you implementing DATAROCKET Core into your IT system architecture. We offer a wide range of interfaces and web service connections.
Would you like to learn more about sustainable data management with DATAROCKET Core?

Andy Killat
Product Owner
IT
Easily integrate all common systems and in-house developments using numerous interfaces

Stay informed about whether integrations are up-to-date and functioning properly

Integrate your own requirements into the MDM tool within the framework of development partnerships
Data stewards
Quickly and easily access validated records

Clean up and fill in gaps in incorrect data

Receive notifications about incorrect or invalid data

Detect, compare, and merge duplicates

Manage and approve data changes using custom workflows and role-based permissions
Business User 
Graphical evaluation of data quality – including trends over time

Integration of data quality evaluations into the user interface and for integration into the BI tool

Display of hierarchies and relationships in the datasets
Blog
Our publications about master data management and data quality. Use cases for the application of DATAROCKET Core in companies.